Individual coaching for managers
Individual coaching for Managers or Leading Executives is intended for any person wishing to develop their management practice or their interpersonal qualities or to improve their professional performance, at the same time achieving more personal fulfilment and expressing their potential...
A personalised approach which is structured, measurable and transparent, and which leads to the emergence of concrete solutions, based on your own talents...
A caring approach, which respects both people and organisations
Techniques and methods
Coaching techniques focussing on solutions, and systemic coaching
Listening and questioning techniques
Feed-back, reformulation
Commitment and action plan
Enneagram, a self-understanding tool
Personal work between sessions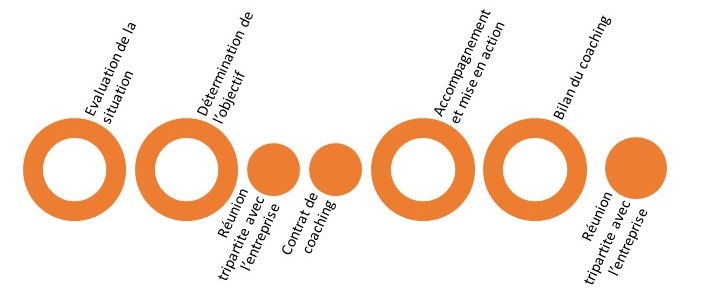 The coaching process
The coaching process is set up by agreement between the company, the coach and the coachee.
The coaching is organised in 4 stages :
Analysis of the situation as it exists (interactions, causes, effetcs, etc.)
Determination of the goal to be achieved (desired situation)
Determination of the means and resources to be employed
Drawing-up of the action plan (commitments)
How long does a coaching process last
An individual coaching process generally lasts a minimum of 12 hours and is spread over a period of 2 to 4 months, depending on the needs, the problem to be dealt with and the rhythm opted for (weekly, bi-monthly...)
Different types of individual coaching
Professional Coaching, to build one's individual, managerial strategies combining personal values, constraints and aspirations... Poser des objectifs précis en mettant en lumière les ressources qui permettront de gérer avec succès de nouveaux challenges professionnels...
Personal Development Coaching, to gain in self-confidence, be more assertive, control your emotions and overcome your hindrances and barriers
Intercultural Coaching to capitalise on the positive effects of cultural differences in the context of international projects, the management of multicultural teams, and in inter-function or inter-generationa relations.
Coaching for Speaking in front of an Audience to enhance your presence, work on the impact of your talks and control your nerves : working on mental preparation and on yourself...in French or in English.